Home

/

Infinity 3.7m Dolphin Fishing Kayak
Infinity 3.7m Dolphin Fishing Kayak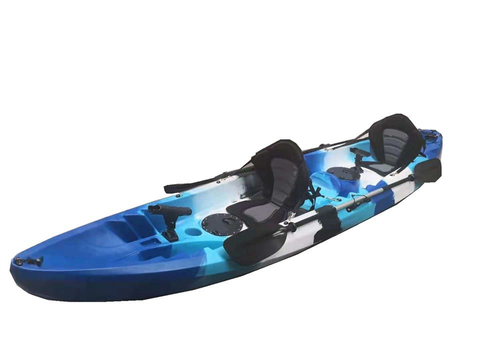 Description
2x Luxury Padded Seat
2x Lightweight Floatable Paddle
2x 360° Adjustable Rod Holder
4x Built-in Rod Holders
2x Storage Hatch

Key Features:
Made from Premium Virgin (not Recycled) Roto Moulded UV Resistant High-Density Polyethylene (HDPE) from the UK, quality product which is built to last. HDPE is far superior in strength and durability than LLDPE.

Made from UV8 Stabilized plastic, perfect for Australian conditions. UV8 means protection for a total of 8000 hours. Given 6-8 hours of UV exposure a day, the Kayak colour and strength will last for 1000 days approximately. That's equivalent to 3 years of use every single day. Please note the UV index varies based on the location.

Aquadynamic shape with a V-shaped hull underneath, both in front and back, to ensure kayak tracks straight and move faster with less effort.

Built-in third child seat position in the middle of the kayak. Kayak accommodates two adults + a child. The middle seat can also be used when Kayak is used by a single person*. (Please note padded seat for the child is not included. It can be purchased at an extra cost).

Ideal for both recreational and fishing purposes. Kayak is best suited for lakes, rivers, dams, estuaries and harbours. With these Kayaks, you can go where bigger boats can't such as kelp beds, reefs, mangrove shallows, coast cliff lines.

Luxury Seats which are reinforced to provide superior back support also comes with a bonus storage bag attached at the back.

Two water-resistant storage hatches with a removable protective bag to keep valuables safe.

Specially designed groove with brass bolt inserts, at the rear storage area, to easily install the motor bar and trolling motor.

Larger width (86cm) which provides extra stability in rough conditions.

Large footrest area designed to greater control and comfort.

Large storage at the back of kayak along with Bungee cord for securing larger items.

Six scupper holes with drain plugs around the body of Kayak for easy drainage if needed.

Includes lightweight two-piece paddle (easy to store). It floats if dropped in water and can also be adjusted in three offset angles.

Kayaks come wrapped in bubble wrap and a plastic sheet to protect it during transport.

Kayaks are stackable, making it easier to transport two-three kayaks at a time.

Four built-in and two 360º Swivel rod holder, plenty for even the most passionate fisherman.

Load capacity of 250Kgs; a result of better design and use of a premium material.

Carry handles on each side with paddle holding straps.

Carry handles on the front and back for easy carriage while using a trolley.

Built-in bottle holders.
Please Note: This is an oversize item and does not qualify for free freight. Please email for postage quote and colour availability.